As this blog thing was my idea, I thought I'd best introduce myself!!
I'm Donna :)I am in my mid twenties, and have been a huge part of the scooter scene since I was a baby.
I have a vespa tattoo, I am t-total and in my life have attended over 700 rallies and rideouts!!
Both of my parents have been in the scene since '79, and took us kids along to rallies with them, from when we were newborn.
My first rally was sometime in and although I don't remember it, it was apparently in the spring and very muddy. My mum was the first to have kids out of her scooter club, and so growing up on the rallies, I looked up to the blokes in my club, like they were family and they treated me like their neice that they never had.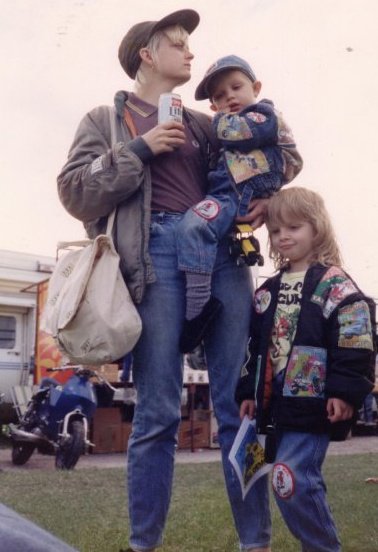 My mum with me and my younger brother! (1990)
My first rally memory (margate '90 so my mum reckons) is of me and my younger brother, aged about 3 and 1, holding hands and looking at the porn magazine that covered up my dads pile of vomit outside the tent. Much to everybodies amusement.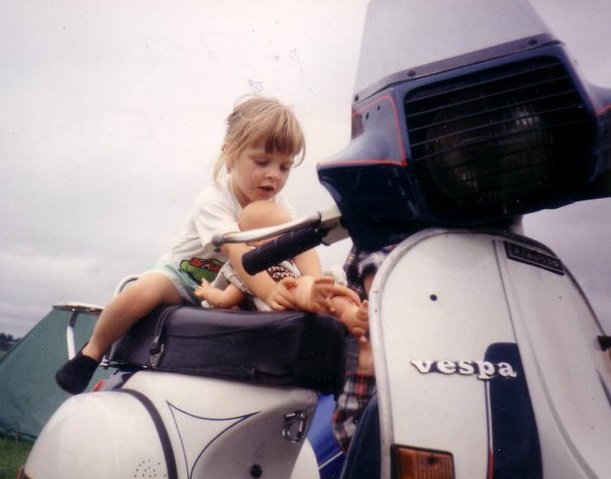 Me, aged 2, somewhere on a rally!
Rallies during the nineties and early naughties were alot different to what they are now. The scene was alot quieter, and more people spent their evenings on the campsite getting drunk and windng up us kids. Fleecing drunk old men for change for the arcade was a favourite game of ours, as was, lets make fingerprints all over the shiny chromey scooters!!
I recal one IOW, I must have been about 12, we broke in to the campsites 'jumble sale shed' with a couple of skinheads. And another time, (aged 10) walking around the whole campsite, alone, looking for ringpulls from pepsi cans. Apparently its a safe environment for a ten year old girl to be alone!!
Now that I am older, and understand alot more, I wouldnt give up the scene for the world. I have made so many amazing friends, who I will only see at certain rallies. I aim to attend at lease 8 rallies per year either on my own, or with either one of my scooter clubs.
I don't have or want a scooter of my own, for me it isnt about that, why would I want to be like my parents? :-) !
I am heavily involved with in the Darskide, and regularly dj for them (shed is my next gig) and I am also a member of the A5 sc.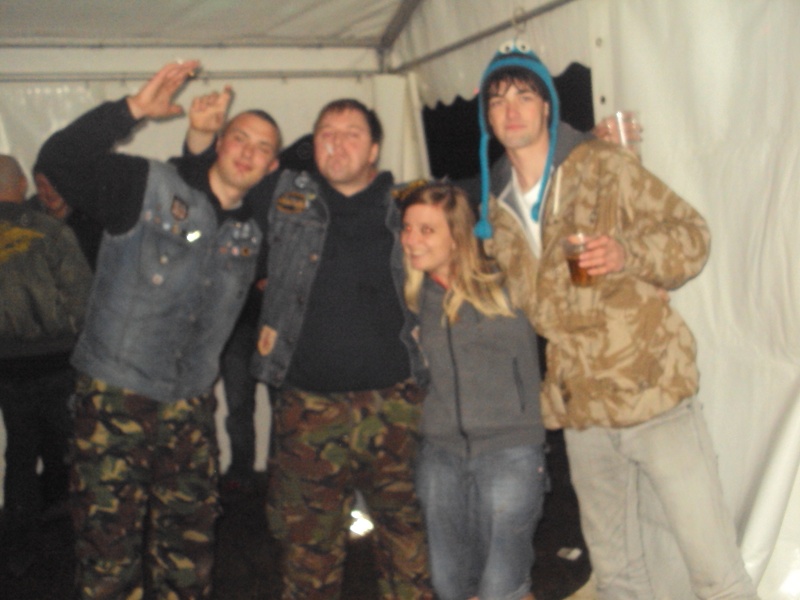 Some of us 'Young Guns' at Shed last year
I thought I would put a bit up on here about me, as I dont go to  many northern rallies nor post much, but if anybody has anything they wanna add on this bit, don't hesitate to let one of us know xx